Brandywine Realty Trust and Drexel University Celebrate Major Project Milestones at First Ground-Up Buildings in Schuylkill Yards
Event marks the completion of 3025 JFK Blvd and the topping out of 3151 Market in $3.5B mixed-use neighborhood
PHILADELPHIA, PA (October 24, 2023) — Brandywine Realty Trust, in partnership with Drexel University, today celebrated the opening of 3025 JFK Blvd and the topping out of 3151 Market, the first two ground-up buildings in the 14-acre Schuylkill Yards master plan.
"Since we announced the vision for Schuylkill Yards with our partners at Drexel, we have been working toward this moment," said Jerry Sweeney, president and CEO of Brandywine Realty Trust. "We set out to create a new reality on the banks of the Schuylkill, drive Philadelphia's economy, and change the city's growth trajectory. Today, we are seeing tangible progress toward those goals with the completion of mixed-use tower 3025 JFK Blvd and the topping out of 3151 Market, a best-in-market life science building. We're delighted to mark these milestones with our community of partners, welcome the neighborhood's first-ever residents and a new population of employees and visitors to our growing innovation ecosystem at Schuylkill Yards."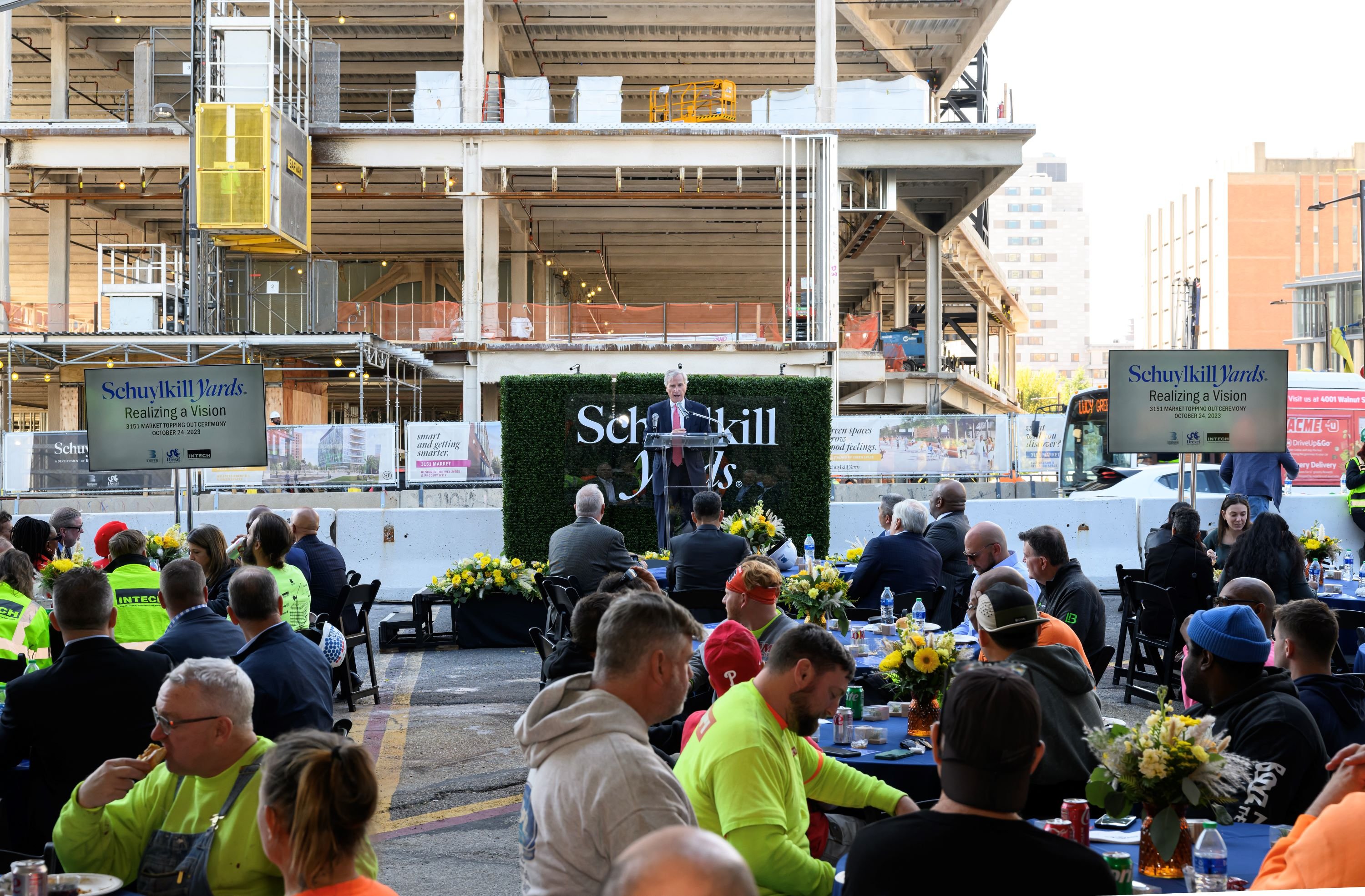 Project partners including the construction team for 3151 Market gathered to celebrate the building topping out.
3025 JFK Blvd is the first ground-up project in Schuylkill Yards. Developed in partnership with Gotham Organization, the 28-story tower delivers 200,000 square feet of life science and office space, 326 luxury residences at Avira, and 9,000 square feet of ground-floor retail. The office portion of the building features large, flexible 29,400-square-foot floor plates with 16-foot ceiling heights, state-of-the-art mechanical and building systems, and ventilation for fresh air intake, filtration, and circulation that provide the optimal environment for both lab and research space and collaborative office spaces. Both office tenants and Avira residents have access to a full floor lifestyle club on the 9th floor boasting a pool and sundeck, cabanas, BBQ areas, a great lawn, lounge spaces, a co-working lounge, and conference and meeting rooms. The building is designed by global architecture firm Practice for Architecture and Urbanism (PAU) with HDR, Inc. as the Executive Architect and interior design by CetraRuddy.
3151 Market is a fully dedicated life science building. Under construction and slated for completion in 2024, 3151 Market will deliver 417,000 square feet of best-in-market lab and office space, 18,000 square feet of retail and amenity space, and 6,000 square feet of terrace space. Designed by leading lab architect Gensler, 3151 Market features 39,000-square-foot floor plates and a flexible 33'x45' structural bay to accommodate a diverse range of life science end-users. The building will provide substantially higher base building technology and infrastructure at delivery than industry and market standard including higher lab capacity (up to 70% lab/30% office vs. market standard 50% lab/50% office), hazardous exhaust including in base building, chilled and condenser water loops, dedicated trash dock, increased elevator capacity, and more. Designed to LEED Platinum and WELL Silver, 3151 Market also features a shared conference and event center with connected eco-terrace and balconies on alternating floors offering tenants unique access to outdoor space and fresh air without exiting the building.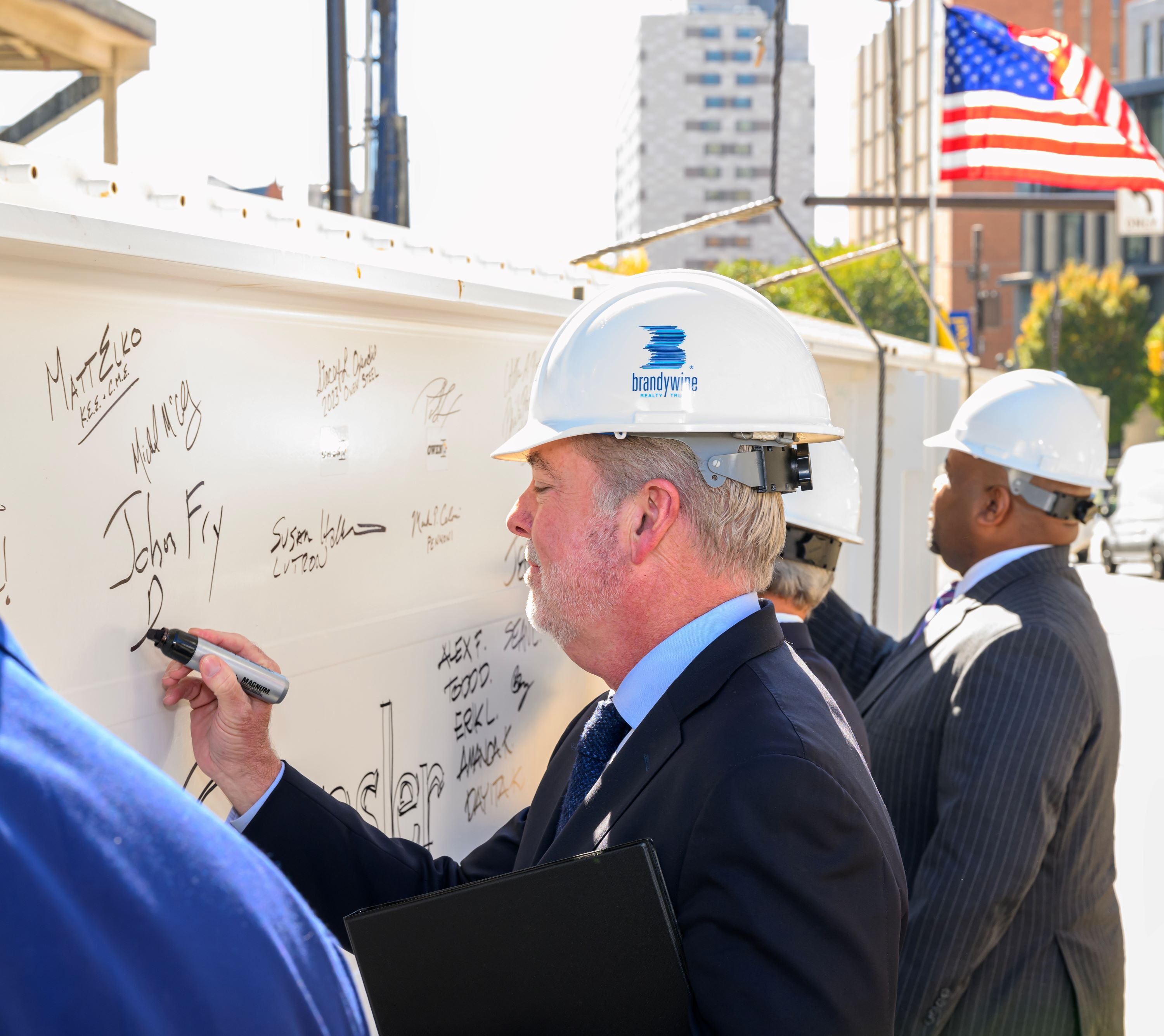 Drexel University President John Fry signs the final beam at 3151 Market in Schuylkill Yards.
"We are thrilled to be celebrating this milestone with our partners at Brandywine Realty Trust," said Drexel President John Fry. "With the completion of 3025 JFK Blvd, we moved one step closer toward creating a vibrant innovation ecosystem in University City that benefits everyone. It has enlivened JFK Boulevard and the Market Street corridor while creating more seamless connections to Center City. It will generate more co-op and career pathway opportunities for our students. It will strengthen our faculty research through collaborative partnerships with industry. And it will furnish more pipelines to post-secondary education and employment for West Philadelphia residents."
Brandywine has developed more than 4 million square feet on the west banks of the Schuylkill River. Of that total, approximately 1.4 million square feet has been developed or redeveloped within the 14-acre Schuylkill Yards Master Plan including Drexel Square park, the Bulletin Building, 3000 Market, 3025 JFK Blvd, and 3151 Market. Schuylkill Yards is attracting companies across the full spectrum of the life science ecosystem, from Spark Therapeutics, a leader in next-generation gene therapy to Goodwin, a global law firm serving clients within the healthcare, life sciences, private equity, real estate, technology, and financial services sectors, and where they converge. The neighborhood's momentum has also sparked growth beyond the bounds of the master plan, including the redevelopment of 50,000 square feet at Cira Centre into life science incubator at B+labs and an additional 27,000 square feet of graduate space. As a neighborhood, Schuylkill Yards continues to evolve and will ultimately deliver 6.5 acres of vibrant parks, 1.5 million square feet of living space, 3.9 million square feet of dynamic life science and office spaces, and 65,000 square feet of experiential retail.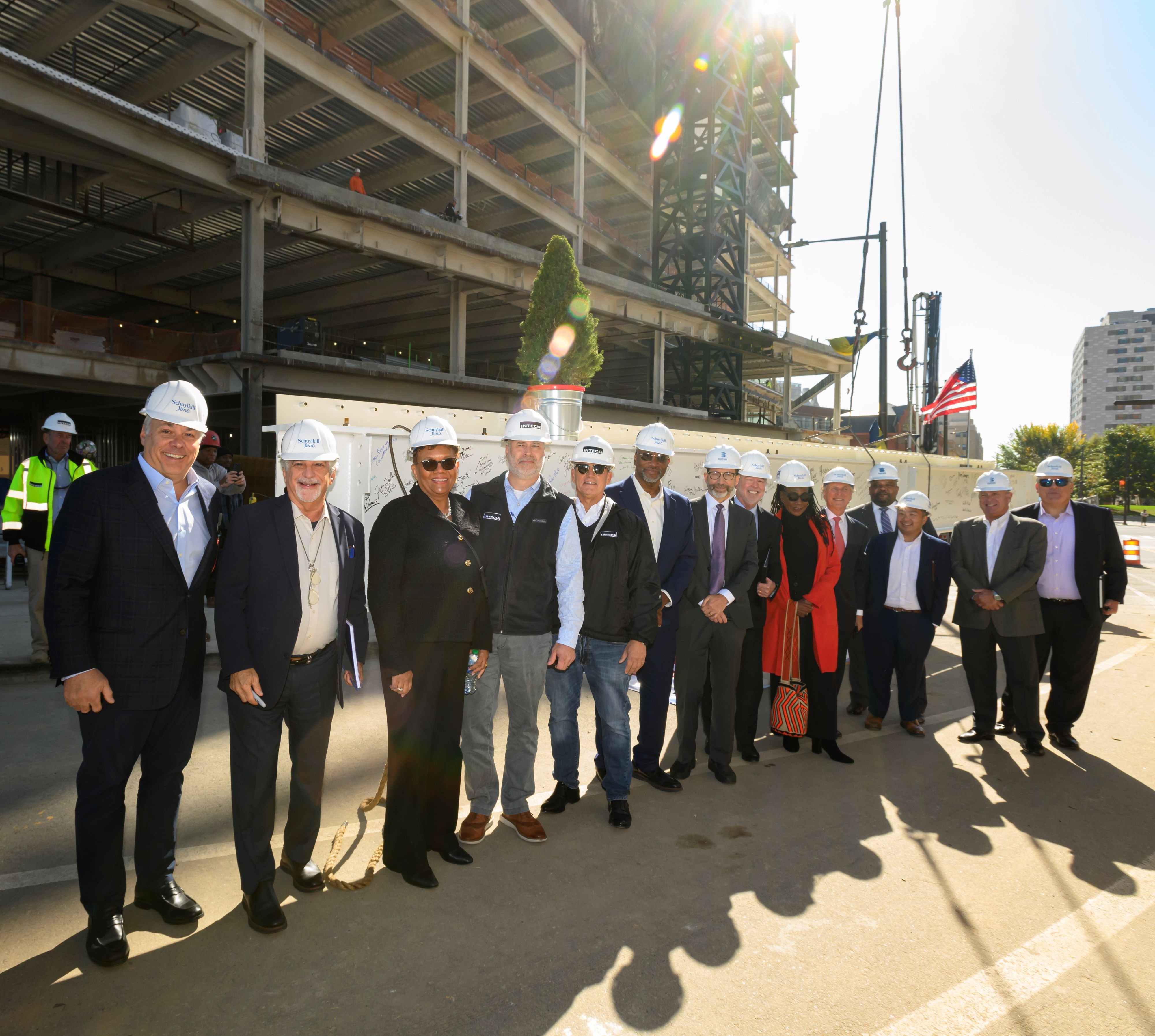 Representatives from Brandywine Realty Trust, Drexel University, Gensler, INTECH Construction, and local community partners signed the final beam at 3151 Market in Schuylkill Yards.
"Over the past several years, employers have been reminded that their most valuable resources are their people," said Sweeney. "We see employers redefining physical spaces as tools to attract and retain top talent, and we are delivering product to help them do just that. 3025 JFK offers an integrated life-work experience unlike any other in the city and 3151 Market will not only deliver best-in-market life science space, but also amenities focused on occupant wellbeing including open-air balconies and terrace space. We know physical spaces help companies define their culture, which helps them define their brand. Schuylkill Yards is designed for forward-thinking companies looking to provide a platform for employee success and move their mission forward."
As part of Brandywine's inclusive approach to development, the company created an unprecedented $16.4 million neighborhood engagement initiative. The multi-faceted program addresses job creation, local and minority business development, community capacity building, and affordable housing. As part of this program, each Schuylkill Yards project is co-developed with a Community Development Corporation (CDC) from West Philadelphia. The Brandywine team worked with Mount Vernon Manor CDC as co-developer of 3025 JFK Blvd and Centennial Parkside as co-developer of 3151 Market. To date, $3.1 million has been paid to fund civic association capacity building, education grants, a housing loss prevention program, a healthy housing program, and more. Brandywine has also provided over $800,000 to The Enterprise Center to provide low interest loans to growing businesses that may be ineligible for traditional bank loans.
"This moment is of great significance not only for Schuylkill Yards and University City, but for all of Philadelphia," said Mayor Jim Kenney. "When we invest in our neighborhoods – especially with great care to create inclusive and sustainable development – all of Philadelphia benefits. In addition to setting an example for inclusive development in our city through the Schuylkill Yards neighborhood engagement initiative, Brandywine and Drexel remain steadfast in their commitment to build a world-class neighborhood and employment hub that will be a significant accelerator of economic growth and innovation for our city."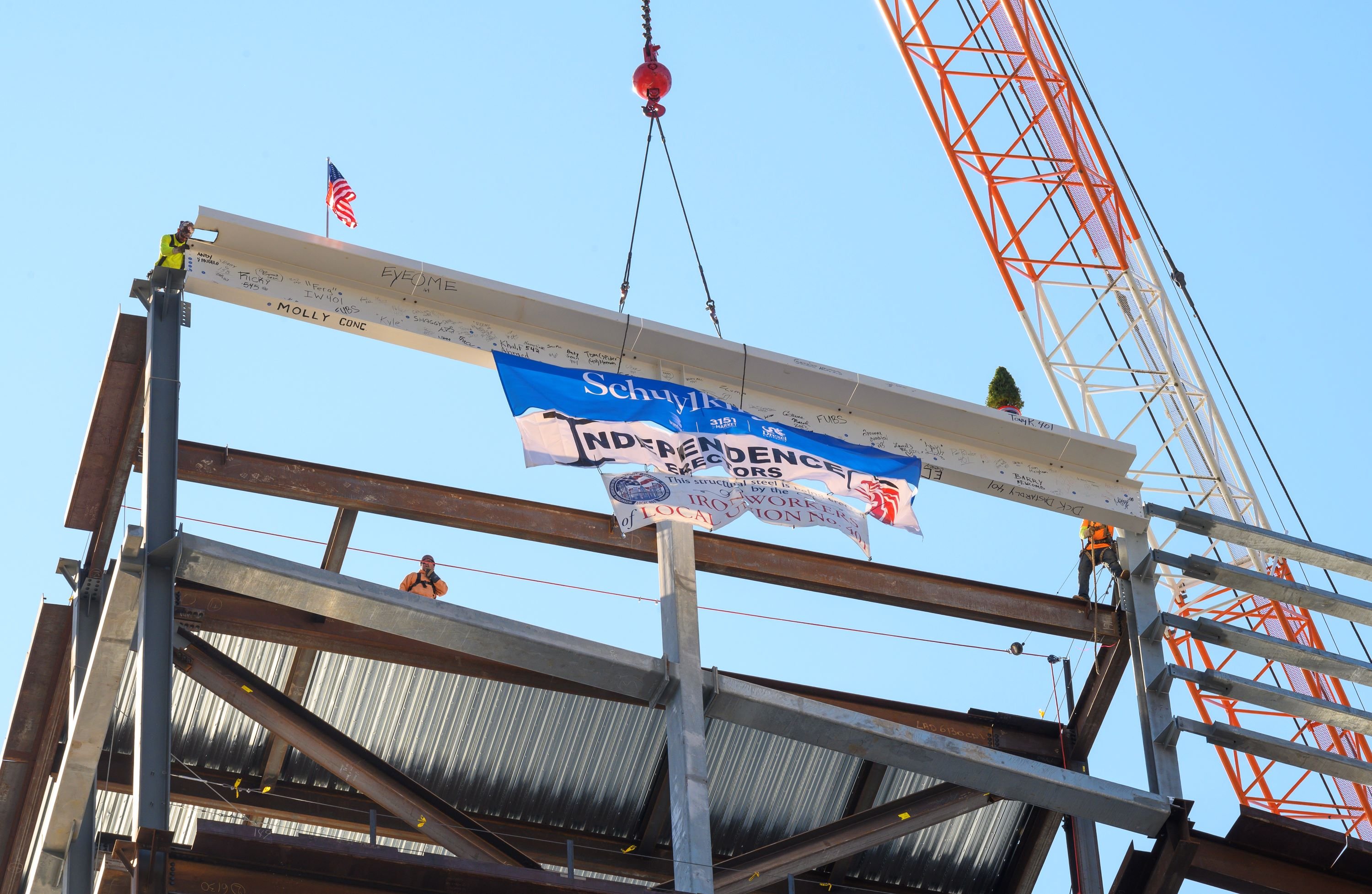 INTECH Construction team places the final beam at 3151 Market in Schuylkill Yards.
About Schuylkill Yards
Schuylkill Yards is a 14-acre transit-oriented neighborhood master-planned and developed by Brandywine in partnership with Drexel University. Located adjacent to Amtrak's 30th Street Station and serving as the central connection point between Center City's economic district and University City's eds and meds epicenter, Schuylkill Yards will ultimately deliver 6.5 acres of vibrant parks, 1.5 million square feet of living space, 3.9 million square feet of dynamic life science and office spaces, and 65,000 square feet of experiential retail. Following the delivery of 3025 JFK Blvd, a ground-up fully dedicated life science building, 3151 Market will deliver in 2024. For more information, please visit www.schuylkillyards.com.
About Brandywine Realty Trust
Brandywine Realty Trust (NYSE: BDN) is one of the largest, publicly traded, full-service, integrated real estate companies in the United States with a core focus in the Philadelphia, Austin and Washington, D.C. markets. Organized as a real estate investment trust (REIT), we own, develop, lease and manage an urban, town center and transit-oriented portfolio comprising 163 properties and 23.0 million square feet as of March 31, 2023 which excludes assets held for sale. Our purpose is to shape, connect and inspire the world around us through our expertise, the relationships we foster, the communities in which we live and work, and the history we build together. For more information, please visit www.brandywinerealty.com.
About Drexel University
Founded in 1891 in Philadelphia, Drexel is a nationally ranked, comprehensive research university recognized for its focus on experiential learning through cooperative education, its commitment to cutting-edge academic technology and its growing enterprise of use-inspired research. With more than 22,000 students, Drexel is one of the nation's largest private universities. Drexel is poised to respond to novel opportunities for research, scholarship and technological development. The University is one of Philadelphia's top five private employers, and a major engine for the equitable economic growth of Greater Philadelphia. Drexel is creating a vibrant presence and ecosystem of innovation in and around University City, while delivering on its public purpose as an anchor institution for Philadelphia. For more information, please visit www.drexel.edu.
Media Contacts
Laura Miller, 215.435.7211, laura.miller@bdnreit.com
Katie Schaad, 215.809.5777, katie.schaad@bdnreit.com