How Talent, Funding and Flexible Growth Options Are Turning Philadelphia Into America's Fastest-Rising Life Sciences City
With a growing number of startups and established companies wanting a presence in Philly, the city has buzz. Here's what's behind it.
By Jeff DeVuono
Over the last several years, no life sciences market in America has had greater momentum than Philadelphia. As the birthplace of cell and gene therapy, the city is not only producing breakout companies — including Spark Therapeutics (owned by Roche) and Tmunity Therapeutics (recently acquired by Kite) — it's also become a place where both new and established cell and gene therapy companies are eager to have a presence. What's more, Philadelphia has been at the forefront of other recent life sciences breakthroughs, including Nobel Prize-winning advances in mRNA technology that led directly to the development of Pfizer's and Moderna's COVID-19 vaccines.
With such success stories, it's little wonder that the city has been rising rapidly in rankings of life sciences clusters. In recent reports prepared by CRBE and Colliers, Philadelphia finished ahead of markets such as New York and the Research Triangle in the Raleigh-Durham area in North Carolina while closing the gap on longtime leader Boston in several key categories. For new and established life sciences companies, Philadelphia is now an essential part of the conversation.
Depth of talent in Philadelphia
What's driving all this vitality? At the top of the list is talent. The work done by cell and gene therapy pioneers Carl June, co-founder of Tmunity, and Katherine High, co-founder of Spark and former president of therapeutics at AskBio, is attracting other highly regarded researchers and spurring even greater innovation. As of 2022, Philadelphia-based cell and gene therapy scientists had been granted more than 300 patents, and they were leading more than 130 clinical trials for new cell and gene therapies, according to research from the economics firm Econsult Solutions Inc. Overall, Philadelphia has one of the highest concentrations of life sciences researchers in the country, with its numbers rising nearly 20% between 2017 and 2022.
That injection of talent is bolstered by several other factors that are important to growing life sciences companies. The pharmaceutical industry — including such titans as Merck, Johnson & Johnson, and GSK — has long had a major presence in the Greater Philadelphia region, providing a deep talent pool of experienced leaders for startups and existing companies. The region is also strong at the other end of the career spectrum: new graduates. Greater Philadelphia is home to four R1 research universities, and its 93 colleges and universities have been producing an increasing number of people ready for careers in science. According to Colliers, the region now ranks ahead of San Francisco, San Diego and Raleigh-Durham when it comes to producing next-generation talent.
Philadelphia's arrow is also pointing up when it comes to biomanufacturing capacity. At the forefront of the phenomenon is Spark, whose headquarters is located within Schuylkill Yards, the development created by Brandywine Realty Trust and Drexel University in University City. Spark's groundbreaking gene therapy treatment, Luxturna — used for a rare form of genetic blindness — was approved by the FDA in 2017, and the company (which is developing gene therapy treatments for other diseases, including hemophilia A and B and several central nervous system disorders) is now building a 500,000-square-foot manufacturing facility in University City, adjacent to its headquarters. The decision by Spark's owner, Roche, to place the new facility there, just a short walk from the University of Pennsylvania, Drexel, Children's Hospital of Philadelphia and other leading research institutions, is further enriching the life sciences ecosystem in University City and cementing the neighborhood as one of the world's leading gene and cell therapy hubs. Meanwhile, manufacturing capacity is expanding quickly throughout the entire Greater Philadelphia region, with additional facilities opening everywhere from the Philadelphia Navy Yard to King Prussia.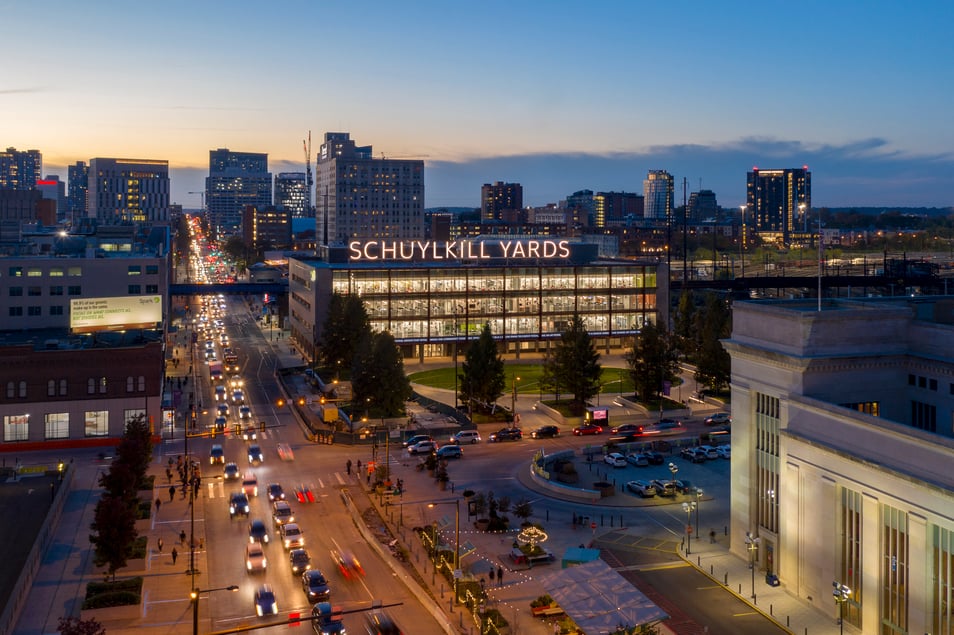 Spark Therapeutics' headquarters at the Bulletin Building in Schuylkill Yards.
An influx of funding for life sciences
Not surprisingly, all the recent advances and activity in Philadelphia have caught the attention of funders. The most significant statistic: Since 2018, Philadelphia is the number-one market in the country when it comes to NIH funding for cell and gene therapy, outpacing Boston, New York, Seattle and Los Angeles. When it comes to NIH grants more broadly, Philadelphia pulled in more than a billion dollars in support from the NIH in 2022 for thousands of projects, including work from Penn researchers on the design of universal vaccines against highly mutating viruses, bacteria and cancer, as well as work at the Wistar Institute that explores immunotherapy approaches to early-stage melanoma. And the awards are going to a mix of institutions: the region's 10 most awarded organizations have seen annual funding grow by 4.2% on average, while smaller, emerging institutions are seeing 12.3 percent annual growth.
Thanks to that kind of validation, as well as the continuing breakthroughs being produced in the lab, private investors are also seeing the city's extraordinary potential. In 2022, venture capitalists poured $1.7 billion into Philadelphia life sciences firms, a nearly 400% increase over 2020. And despite the cooling of the overall venture capital market in the second half of 2022 and first quarter of 2023, opportunities for young companies remain robust.
The inflow of money reflects the confidence both public and private funders feel in work originating in Philadelphia, and with good reason: Penn, whose groundbreaking research led to the development of mRNA technology, now receives more than $1 billion annually from mRNA licensing agreements.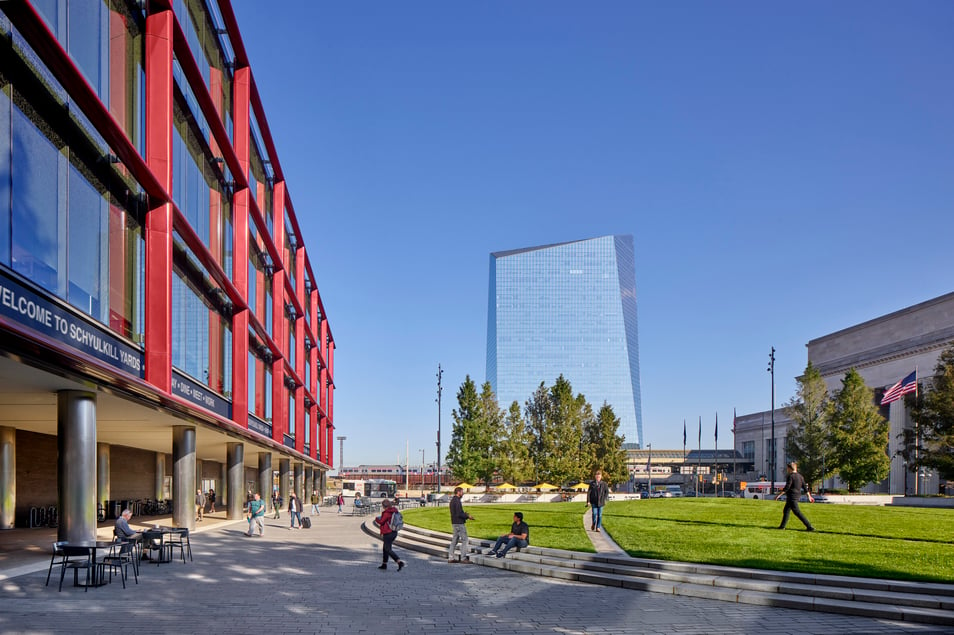 Over the past decade, the region has added millions of square feet of lab space to accommodate rising demand.
Flexible space for growing and established life sciences companies
One other important part of the equation when it comes to Philadelphia's vitality is space. Over the last decade, the region has added millions of square feet of lab space to accommodate rising demand. The result: a wealth of opportunity for both rapidly growing and established companies.
Brandywine Realty Trust — a firm with deep roots and a trusted brand in the Philadelphia market — has expanded the local ecosystem by providing a unique platform that gives life sciences companies what they need at every different stage of growth. Companies can start with just a few benches within B+labs at Cira Centre (a brand-new, 50,000-square-foot incubator that provides plug-and-play lab space), then move into larger graduate space or establish a more substantial research and office operation within Schuylkill Yards or even the Philadelphia suburbs. All the while they remain underneath the Brandywine umbrella, with Brandywine representatives willing and able to accommodate a company's growth and changing needs.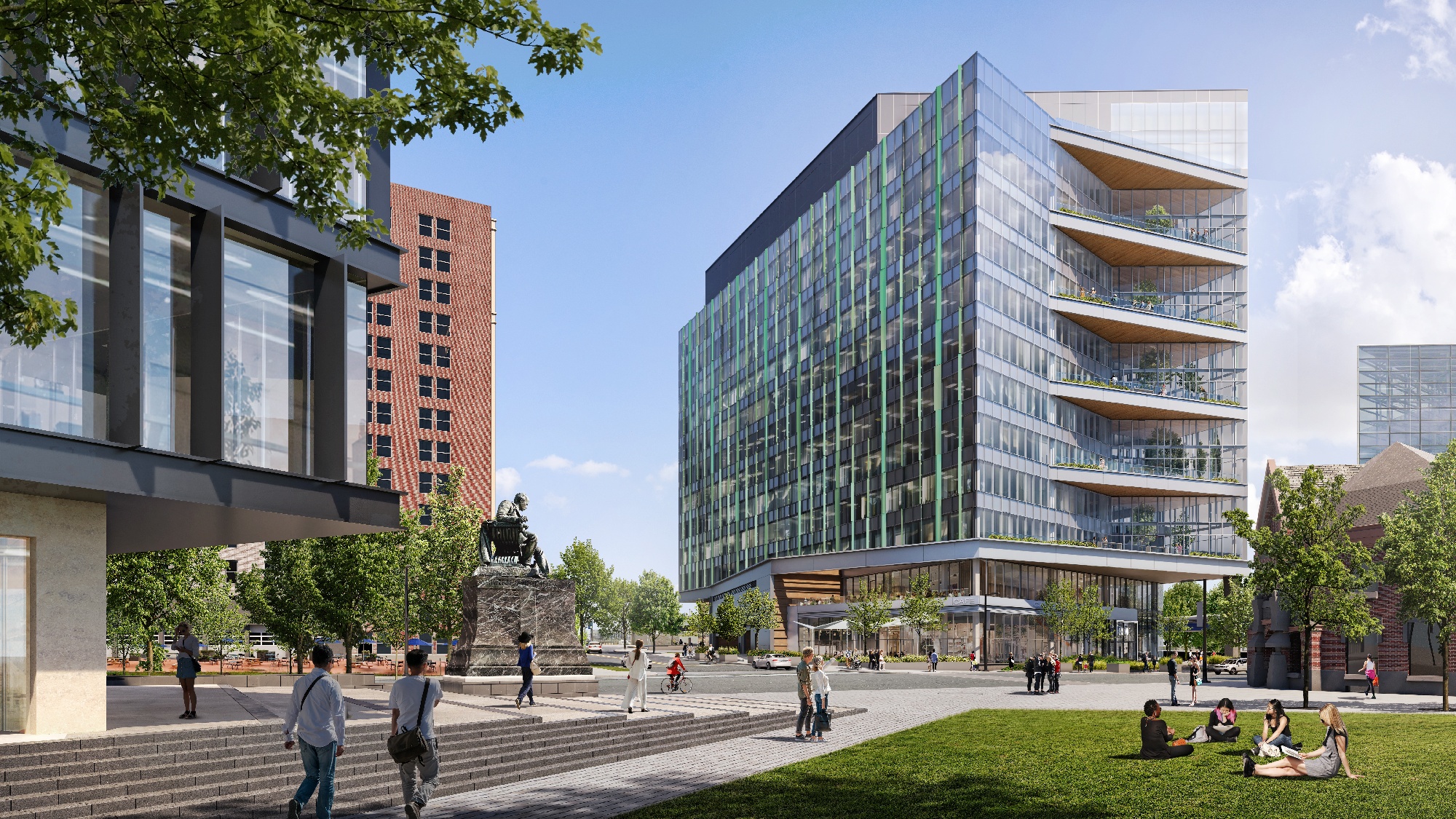 3151 Market Street, a fully dedicated life science building opening in 2024.
For companies like North Carolina-headquartered AskBio, which launched its Philadelphia presence in 2022, the kind of flexibility afforded by those options is ideal. The company is currently one of 14 companies housed inside B+labs, but with its rapid growth it will move to new space in the Brandywine portfolio in early 2024.
Meanwhile, because of Philadelphia's momentum, more life sciences space is coming, with an additional 4 million square feet slated to be ready by the end of 2024 and nearly 10 million square feet in the planning or proposal stages. At Brandywine, the new additions start within Cira Centre, where the company is building state-of-the art graduate lab space (and also has 200,000 square feet of space available to be converted for life sciences use). Brandywine is also putting the finishing touches on 3025 JFK, a mixed-used development with 200,000 square feet of office and dedicated life science space opening in quarter three of 2023, and it's building 3151 Market, a fully dedicated life sciences building, with options for full floors of intensive biological and chemical lab use as well as manufacturing, opening in 2024.
For Philly's increasingly vibrant ecosystem, the new space will only add to the momentum — and add to the reasons that large and small life sciences companies are finding perfect homes in Philadelphia.
Ready to find the perfect space for life science in Philadelphia?
Learn more about Brandywine's unique life sciences platform that accommodates space for every stage of discovery: visit the Brandywine Life Sciences website.
See details on the Schuylkill Yards properties mentioned in this article: Schuylkill Yards | 3151 Market St | 3025 JFK Blvd. | Cira Centre