Up & Coming: One Uptown Workplace Team Chat Bringing Vision to Reality at Uptown ATX
A dynamic mixed-use community is coming to life in the heart of Austin's second downtown. Uptown ATX, Brandywine's $3 billion, 66-acre master-planned neighborhood in North Austin, will deliver nearly 7 million square feet of workspace, retail, hospitality, and multifamily uses; 15 acres of greenspace; and a new CapMetro rail station. This vision is becoming reality with the construction of One Uptown, a mixed-use project comprised of 348,000 square feet of Class-A workspace, 341 apartment residences, 15,000 square feet of street-level retail, a six-story parking garage, and a public park. With the office portion coming to completion later this year, we caught up with Talmadge Smith, principal at Page Southerland Page, Inc. — the firm responsible for the Architectural and Interior Design for One Uptown's workplace and parking components — and Ashley Bloom, director of development at Brandywine, to discuss the project.
Setting the Tone for What's to Come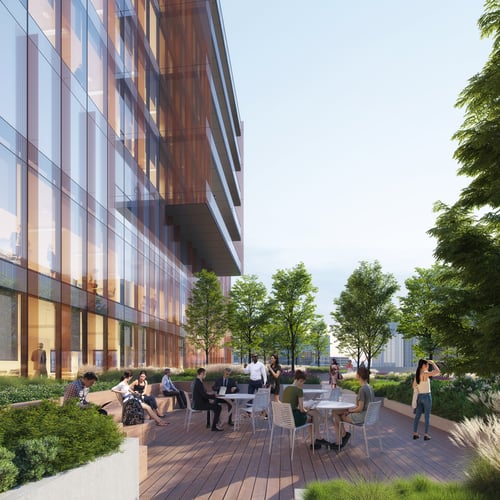 As the first of many buildings in a multi-phased development, a strategic imperative of One Uptown is to balance immediate needs with the master plan's long-term goals. "Creating the best use and maximizing density of the site was an immediate need and we accomplished that by making it a true mixed-use project with office, retail, a shared garage, and residential," says Bloom. From a macro perspective, One Uptown is "setting expectations and setting the tone for what the rest of the 66 acres is going to be."
The project site, which occupies the southwestern edge of the Uptown ATX parcel fronting Burnet Road, offers a highly visible opportunity for One Uptown to make its mark. This provided a significant opportunity for development that engaged, rather than turned its back on, Burnet Road, a six-lane roadway dotted with parking garages and set-back buildings. Yet limitations within the North Burnet Gateway Regulating Plan required setbacks that would disengage the building from the street. Working alongside the City of Austin, the One Uptown team obtained Alternative Equivalent Compliance (AEC's) to minimize the building setback and wrap the building in retail and residential to create a more dense, walkable urban environment. With these changes currently being incorporated into the North Burnet Gateway Regulating Plan, "now the remaining development of Uptown ATX, as well as future developments in this neighborhood, can benefit from these revisions to the neighborhood plan to create this second downtown that's been talked about for so long " says Bloom.
Striking & Strategic Design
For the office tower, "the design was really about trying to make a bold statement on Burnet Road—something amazing and different coming to this part of town," says Smith. When working with the City of Austin to reduce the setback, the Page team recognized there was a large portion of the garage that could be pulled out even closer to the street to "create an interesting node on the northwest corner of the building." Where a portion of the garage is parallel to the street, "the office is angled back just a little bit so that when you approach the building on the road, you're always coming at an oblique angle and therefore it sort of reveals itself to you as you drive by."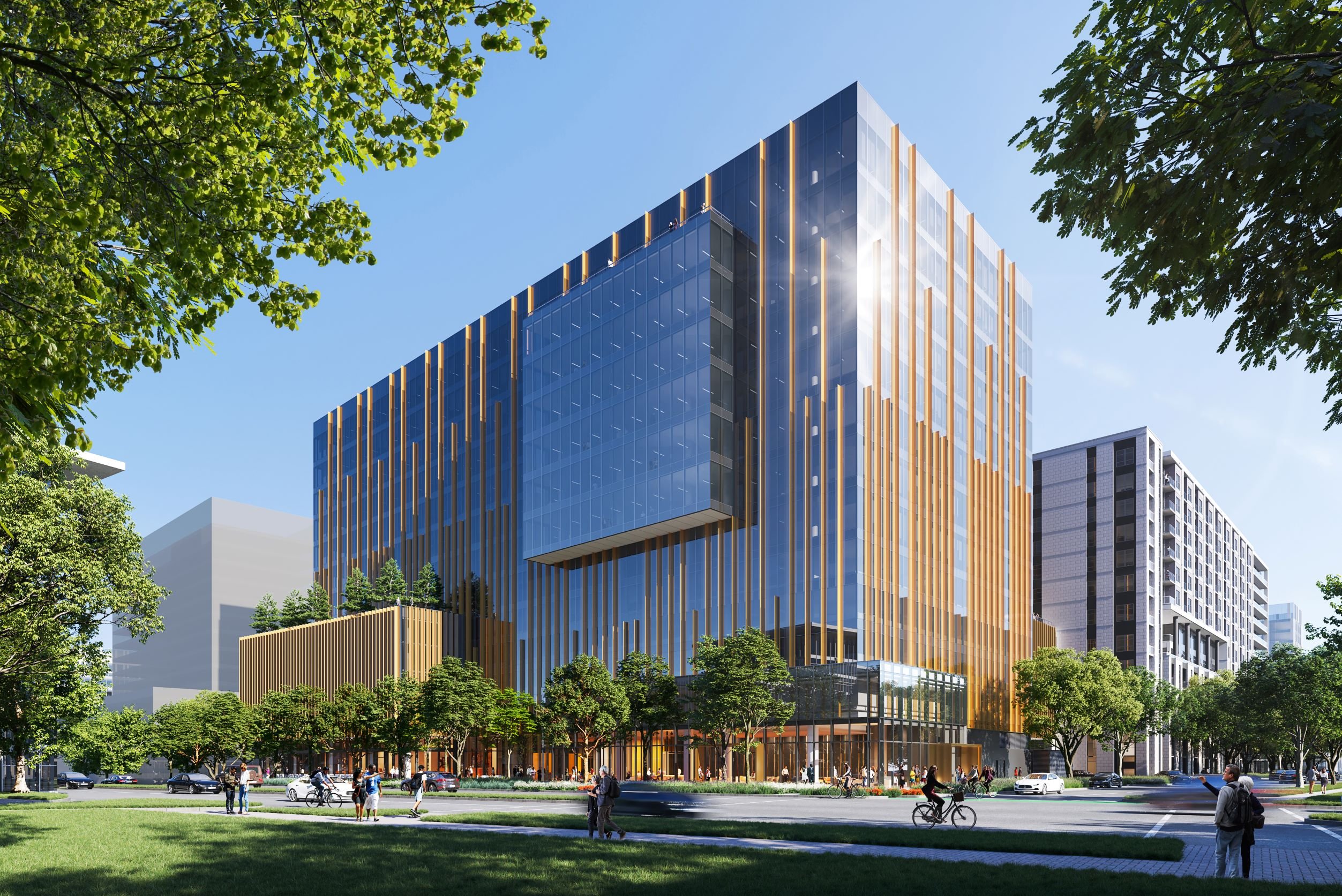 An all-glass façade is typical for office buildings, but a challenge for energy efficiency. To combat this, Page designed a dynamic frit pattern in a bold terracotta color. Frit, a ceramic coating baked into glass, stops heat and light from passing all the way into the building, which reduces glare, improves interior comfort, and decreases the total amount of tonnage required for the HVAC system, therefore bringing down equipment and usage costs. A gray inner layer in the glass panels provides a darker tint, ensuring the frit is extremely visible from the exterior. Finally, vertical fins of varying heights are integrated into the curtain wall system throughout the façade, adding interest and dimension. "Those are the pieces that as you drive around, they're kind of there and then not there," says Smith, "They give the building personality and presence."
Crafting a Unique User Experience
Bloom notes that "the personality is not only on the exterior, it reveals itself in striking ways in the interior as well." Along the back wall of the lobby, a show-stopping stretch of Sahara noir marble with a naturally occurring terracotta stripe makes a powerful statement and is complemented by a yellow back-painted glass wall adds a lively pop of color. Wood and natural finishes add warmth to the sizable lobby to create a comfortable, casual environment. "It feels like a third space where you can work, you can hang out," says Smith. "It's extremely flexible and a great place to be used by all tenants."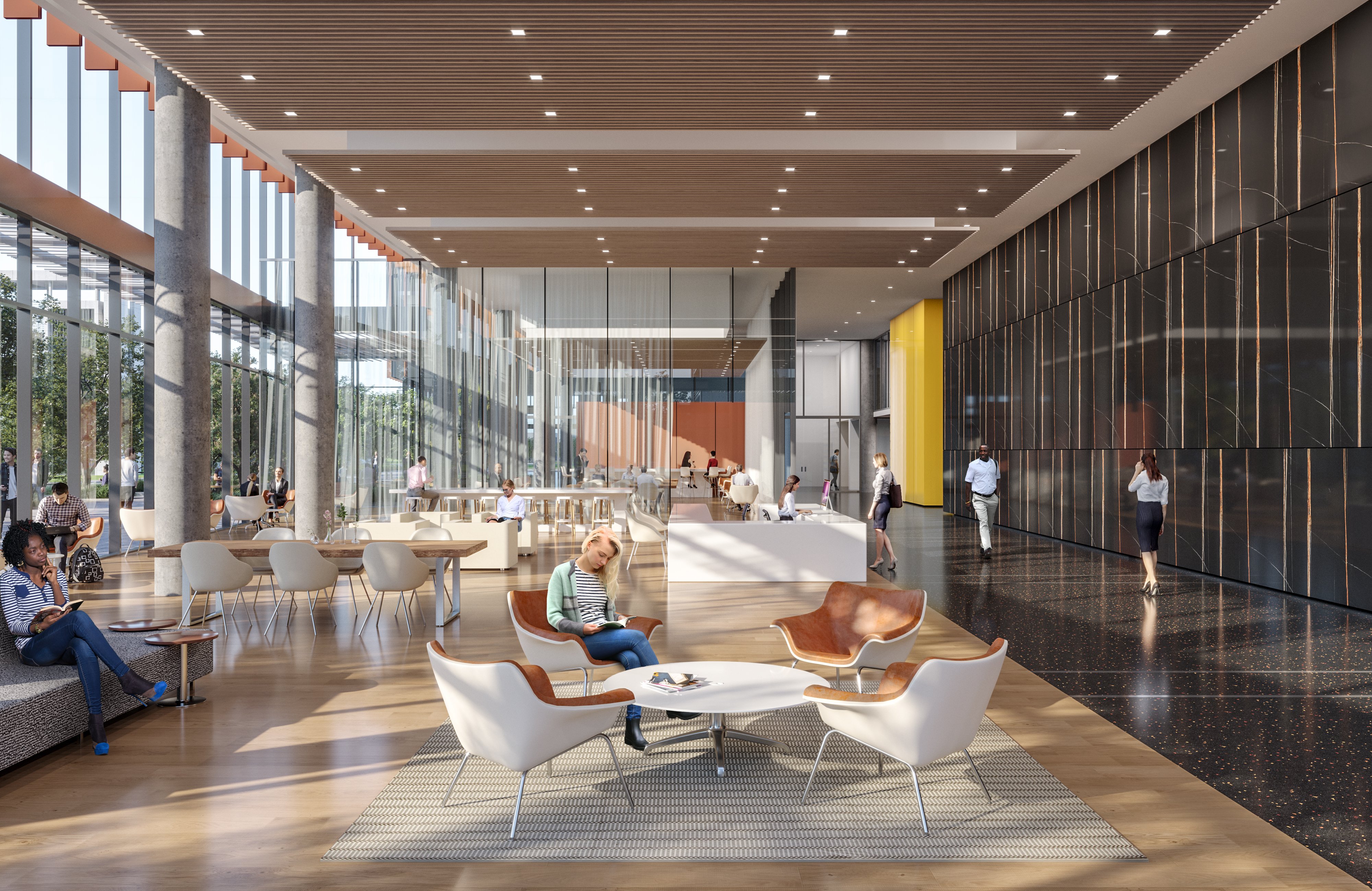 When it comes to employee experience, "the wellness component is huge," says Smith. The building provides a unique indoor-outdoor work experience with balconies and terraces on nearly every level as well as a sprawling amenity terrace with shaded spaces for meetings, social events, or an al fresco lunch break. Tenants also have access to a state-of-the-art fitness center and a half-acre park nestled on the eastern edge of the site. In the long term, One Uptown "is going to be integrated into a fantastically walkable urban setting," says Smith. "What could possibly be more sustainable?"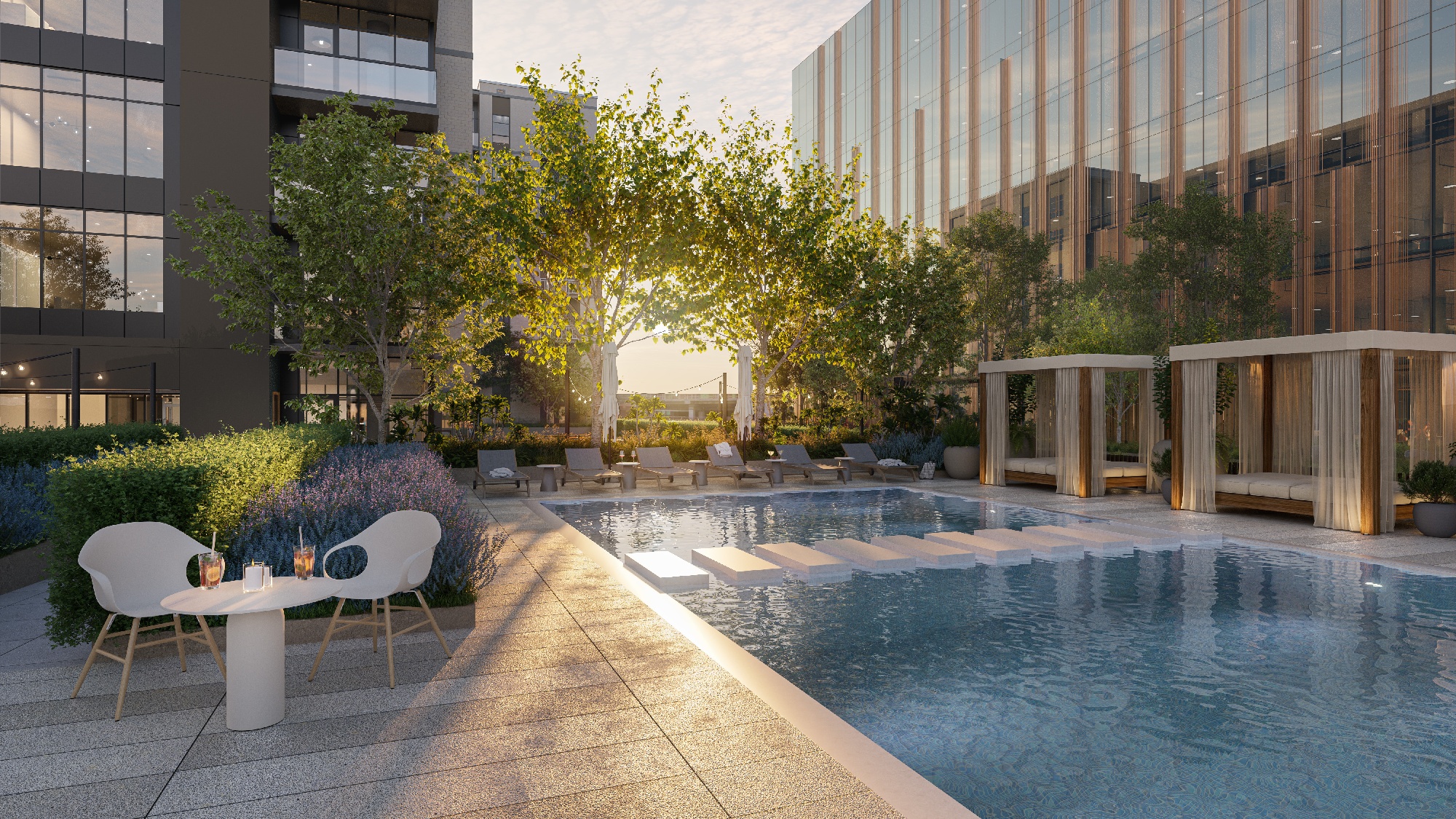 As the first building within a master plan and a mixed-use project in its own right, One Uptown serves as both a microcosm of Uptown ATX and a harbinger of what's to come. Here, "we are creating intentional gathering spaces that will not only pull in our tenants and our residents, but the surrounding community as well," says Bloom. "People who may be going to a game at Q2 Stadium can go to dinner or take their kids to the playground beforehand at Uptown ATX, then jump on the CapMetro Redline and be at the stadium within mere minutes. That to me is what's exciting—you're really enhancing the community in an intentional way that not only benefits our stakeholders but the broader community we're building in as well."
One Uptown's 348,000 square feet of office space will deliver in fall 2023. Learn more: uptownatx.com/leasing